The Fleur de Lis and the Double Headed Eagle are both symbols associated with monarchies. There is even old talk that the Fleur de Lis was
inspired
by the double headed eagle of Byzantium. That does not make it on the Wikipedia page because Wikipedia is a folk encyclopedia. These are awesome symbols.
Either one is a good choice for an entity's symbol. Having French roots, I have seen the fleur de lis on plenty of items. It is crisp and clean. There is a simple beauty to it.
I am also a believer that the fleur de lis was a stylized homage tot he double headed eagle. The DHE is much more fierce looking and signifies the power of the monarch. The might as well as legal leadership is symbolized by the eagle's talons gripping a monarch's symbols. The two heads can look east and west to always have an eye on the borders and project the face of the empire to those barbarians. It is used quite often and very well by monarchies through the years.
Russia
Byzantium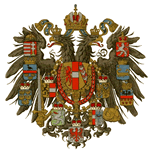 Habsburg
Germany
If secession becomes a hot topic and mini-nations pop up, can we all agree to be a little creative? Fleur de lis or double headed eagle, let us try to match the creativity and fun of our European ancestors.